Profile
Fyns Nimbus Center is a privately owned single proprietorship founded in 1986 by Tage Johansen.
In our workshop, which has the newest equipment, we offer total restorations and renovations of spare parts. Only spare parts designed according to the original drawings of The Nimbus Factory are used. Our well-stocked store room ensures quick delivery of spare parts abroad as well.
Fyns Nimbus Center exports spare parts to customers world wide e.g. to Europe, Australia, U.S.A and Canada. Nimbus owners come to us from Austria, Switzerland, Holland and Belgium to have their bikes restored.
This is how it started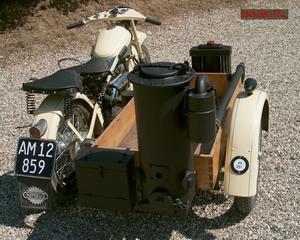 In 1953 Tages dad got a brand new nimbus with sidecar, Tage was not old, before he started to help his dad, to make service on it, an already when he was 8 years, he started to ride it, at home around the house, ore if there was a field near where they was.
When Tages dad quit driving the nimbus because his age, he gave it directly to Tages son Flemming, and he has don a lot of kilometres, with it the last 25 years.
Tage learned to be a mechanic, and just before he's 20 years birthday the dad asked if he would like to have a 1939 nimbus as birthday gift, that is the one witch later got the gen-gas generator on it.
As a mechanic it was naturally that Tage helps he's friends to repair and service there nimbuses.
After some years as a truck mechanic, tractor mechanic, hydraulic mechanic and vehicle electricity mechanic, the start came in 1986 in the first 3 years after a full time job, but from 1989 full time at home.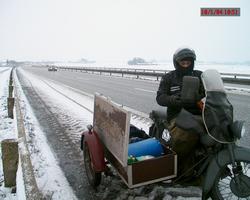 Tage drives a 1954 nimbus with Bender sidecar and trailer.
The 1939 with gen-gas generator and nimbus sidecar.
And a 1946 military model with nimbus sidecar fore winter use.
Tage´s daughter has also got a nimbus, as she is driving a lot.